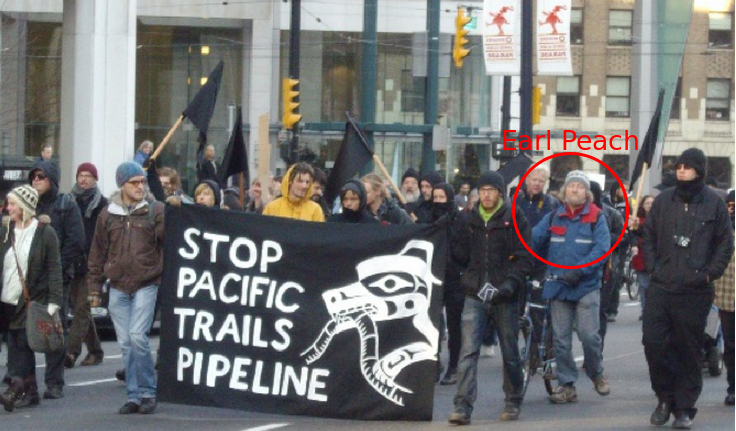 I've been doing a bit more research on the anti-pipeline camp going on this week in northern BC. I wrote last week how the camp is being organized by groups including No One Is Illegal, Deep Green Resistance and the Sierra Club. Today I have some more participants to share with you- most of which are funded by the George Soros / TIDES Foundation crowd. Canada's sovereignty is at stake.
Let's have a look at these new organizations:
Indigenous Environmental Network (IEN)
The IEN is an American organization based out of Bemidji Minnesota. They have deep connections to the Occupy world, and were featured at a couple Occupy Toronto events. IEN is funded through the TIDES Foundation in the US and has relations to Soros' Open Society Institute. They are also a member of Climate Action Now!, an organization that is connected with the founding of Occupy in London (UK), and connected to many of the people at Occupy Toronto.
Oil Sands Truth (OST)
Oil Sands Truth is an organization run by Macdonald Stainsby- a prominent member of the Deep Green Resistance cult. Stainsby is a globe-trotting protester with very murky funding sources. Stainsby is an active Black Bloc anarchist who is probably most famous for the day that he threw a pie in David Eby's face during the 2010 Olympics. Stainsby is also connected with the TIDES Foundation funded Rainforest Action Network.

The Ruckus Society
The Ruckus Society is an anarchist organization based out of Oakland California- the home of some of the most violent Black Bloc activity in the Occupy movement. Ruckus has deep connections to Occupy Wall Street, Occupy Toronto, and a number of other Occupations. Like most of the organizations battling against the pipeline, they are also funded through the TIDES Foundation. They also received funding through George Soros' Open Society Institute.
A lot of BC politicians have been backing the people behind this action. People like Sandy Garossino, David Eby (TIDES Funded), and Mayor Gregor Robertson (TIDES Funded) have publicly backed this initiative, and are totally in denial that the people behind it practice violent tactics. I've been studying this for many months, but it still astounds me they aren't speaking-out against it…

Related articles