UPDATE: Since this article was posted, one of your fellow readers noticed that one of Annett's story about rape was posted on this little girl's facebook page- with profanity and all. This is unacceptable!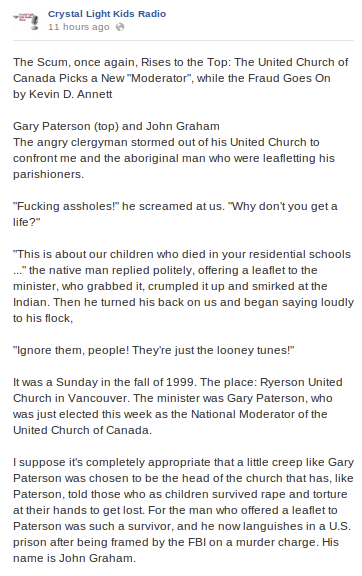 ——————————
If you want to understand how far Kevin Annett has fallen, this story is the perfect indication. I've been tracking videos about Annett posted to YouTube for several months now. As time passes, and Annett's support wanes, the number of videos has drastically decreased- as has the significance of the people who are posting stories about him. Today I found a very disturbing example of that…
A video was posted on August 17th, by "Chrystal Light Kids Radio" where Annett is interviewed by a young child. If people should be warned about leaving their children alone with priests, they should be even more concerned about letting them talk to priests who were defrocked for refusing to meet with a psychiatrist. Particularly in this case.
Annett is a sick man, he actually gets into a conversation with a young child about a Catholic priest who raped children. The parent who let Annett speak with this guy deserves a visit from child protective services….
The kid asked Annett about the phantom court case that he, Alfred Webre and Jason Bowman claimed to have filed, but never did file (they lied through their teeth). Annett's response was quite interesting:
"Well the lawsuit began there, but it actually is continuing in international courts of law. Next month we are going to file a suit in Europe with the human rights course there, on September 15th. Because we realized that the courts of Canada are not willing to indict the crown and the Vatican for these crimes, that they are protected by the law…"
Annett has sunk to a whole new low here. The lawsuit didn't begin with the filing of this case- the case was never filed! And, now he continues to lie about it- despite the fact that the lie has been uncovered. And, now he is claiming he will be filing another case at 'international courts of law'- well, I guess that's better than international courts of tennis!
But, the reality is, even if he actually files a case (I'll be checking with them Kevin), they won't accept it. The International Court of Justice doesn't accept filings from defrocked priests. In fact, they only accept filings from representatives of countries. The only country Annett represents is crazyland…
And, seriously, to the parents who let Annett talk with their child- get your act together. Letting your kid talk with a defrocked priest about child molesters is pretty close to child abuse…
Here's the video:

Related articles