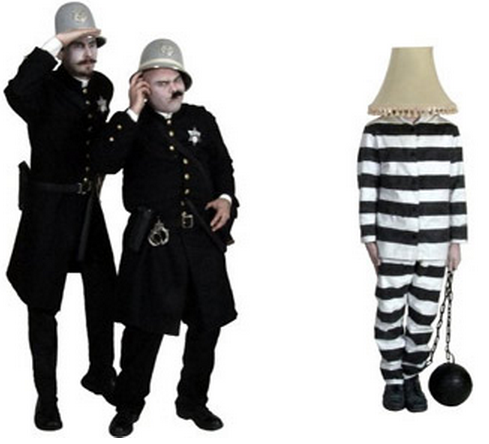 I wrote about how I was assaulted by a gang of Occupy Toronto's Black Bloc a couple of months ago. It was pretty brutal- one of them (now known as Flagpole Alex) came running up to me and smashed me over the head with a large wooden flagpole, then three others came running up to me and started kicking me while I was down. It was really heroic of them- and the perfect evidence that the activist community cannot tolerate their presence at local demonstrations.
The police showed-up that night, right as the ambulance was taking me away to the hospital. They followed the ambulance and took my interview in the waiting room. The next morning I sent an email to Detective Williams who was assigned to me case and sent him pictures and the first names of the people who attacked me. Then, two days after my assault, they sent officers to my home to take pictures of my injuries and to collect a copy of the hospital's report.
This was the last time I heard from the detective for a few weeks. I tried calling him, and left messages, several times- but he never got back to me. Then, on July 10, I saw one of the people who assaulted me (Adam) at the anarchist's rally for the beating of Angela Turvey. I pointed him out to the police who were there, they called Detective William's desk and were told not to detain him because they already knew his name. They also said that they knew the name of Flagpole Alex.
I began to feel a bit safer knowing that they would soon be arrested. The problem is that they weren't, and they haven't been arrested to-date. So, I spent a couple more weeks trying to get in contact with Detective Williams. Finally, I was told that he was on vacation and wouldn't be back until August 20th. I spoke with his boss and asked for someone else to be assigned to the case, but he told me to wait. To be honest, I was in total shock about this- I thought the Toronto police took assaults seriously- particularly when they are gang related.
Finally, on August 14th, Detective Williams got in contact with me, he wrote an email that blew my socks off:
"Only one male has been identified based on the information you supplied. Attempts have been made to locate this male to no avail. I am still working on trying to identify the male you know as 'Adam'."
Say what? I was both angry and confused. As I've explained, I've pointed-out Adam to officers of the 52 division in front of City Hall back on July 10th. They specifically told me that they didn't need to stop him and ask his name because they had it! In my opinion, this was the height of incompetence.
As for identifying Flagpole Alex, I can maybe understand why they haven't found him yet. Alex has drastically changed his look- he has new glasses (the TPS have his old ones), he cut his hair short (used to have a ponytail), and he has trimmed his beard to be a lot shorter. You can see this in the above picture- which, by the way, was taken at the University of Toronto during the training meetings for the people trying to organize an Ontario student strike this fall.
Somehow the Toronto Police Service seems to have lost its way when it comes to dealing with assaults. I'm not the only person who has had such experiences- David Menzies of Sun News had a similar incident when he was assaulted by a Muslim man after taking pictures at Dundas Square. Rather than go through work of booking the bad guys, they seem to feel it is okay now to let violent people walk the streets unhindered.
I have to wonder how many other people there are out there who have been attacked for political reasons and haven't yet seen justice. Is it that assaults aren't important enough? Is one of the people involved a police asset? Their lack of action just doesn't make any sense.
I will be escalating this issue to TPS Chief Blair this week- hopefully he can put some fire under Detective Williams and get him to do his job and arrest these people…
Related articles