Update: A phone call to the car dealer confirmed that the vehicle hasn't been sold. So, no, she didn't buy an SUV- it looks like a trick.
Many of Canada's most prominent professional protesters converged in Halifax this weekend for a youth climate conference called Powershift. The event bills itself as a "grassroots-driven" organization, but you don't have to look too deep to realize they're not. Powershift is run by the The Canadian Youth Climate Coalition- who, as reported by Vivian Krause, were directly funded by the TIDES Foundation USA. (Donations to Powershift are managed through the NDP affiliated Polaris Institute).
The speakers list at this weekend's event reads like a who's who of NGO/union funded activists and anarchists- many who've graced the pages of this website. Presenters included Amanda Lickers, the distasteful beast who appropriated the voices of Vermont's Nulhegan Abenaki Tribe and desecrated a memorial to September 11 victims in their name; Vancouver's Sean Devlin who works with one of Canada's foremost promoters of political violence; and today's subject, Mik'maq warrior Suzanne Patles.
Patles recently completed a cross-country tour, celebrating her experiences at the Elsipogtog anti-fracking protests (an incident where several RCMP cars were set on fire, and police discovered guns and bombs). The official story is that, like Powershift, Suzanne Patles is a grassroots activist- no NGO funding to see here! Considering this, it's rather curious to hear she claims to have bought a shiny "new to me" BMW SUV!
Patles posted a picture of her new SUV on her Facebook page on March 27th, just a couple days before she took the stage to talk about fighting climate change. When friends asked her if she was serious, she confirmed saying that it was definitely her's:

When asked the model and year, she responded saying it was a 2004 BMW X3, a nice (and expensive) ride:

She claimed to have purchased the vehicle form Lake City Auto in Halifax, and says that she's making bi-weekly payments that cost an arm and a leg. (Just like those improvised explosives they found at Elsipogtog!)
Discovering this, Your Humble Narrator decided to check out the car dealer and see if they listed it on their website. It wasn't there, but they did list this vehicle for sale on their Facebook page on February 5th: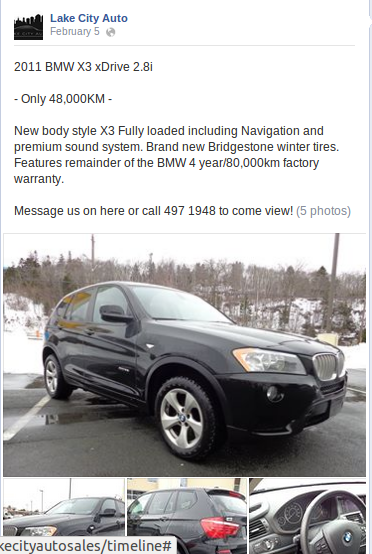 Looking at the picture, it's immediately apparent this is the same vehicle Patles claims to have purchased. But reading the description, there appears to be a conflict- Patles says that the BMW is a 2004, and the dealer says it's a 2011. What happened, perhaps someone advised her to tone things down a little so people don't get jealous of her union/NGO lifestyle? Or, maybe she didn't even buy it?
Either way, she's lying, which is pretty much what one would expect from her breed of professional protester.
Parents, keep your kids away from Powershift- there are some messed up people there. Equally, it's pretty messed up how US & Canadian charities are paying to promote militants and liars as role models to our country's youth. Most parents don't want their kids being exposed to nutbars who glorify desecrating memorials and burning down cop cars…
Related articles